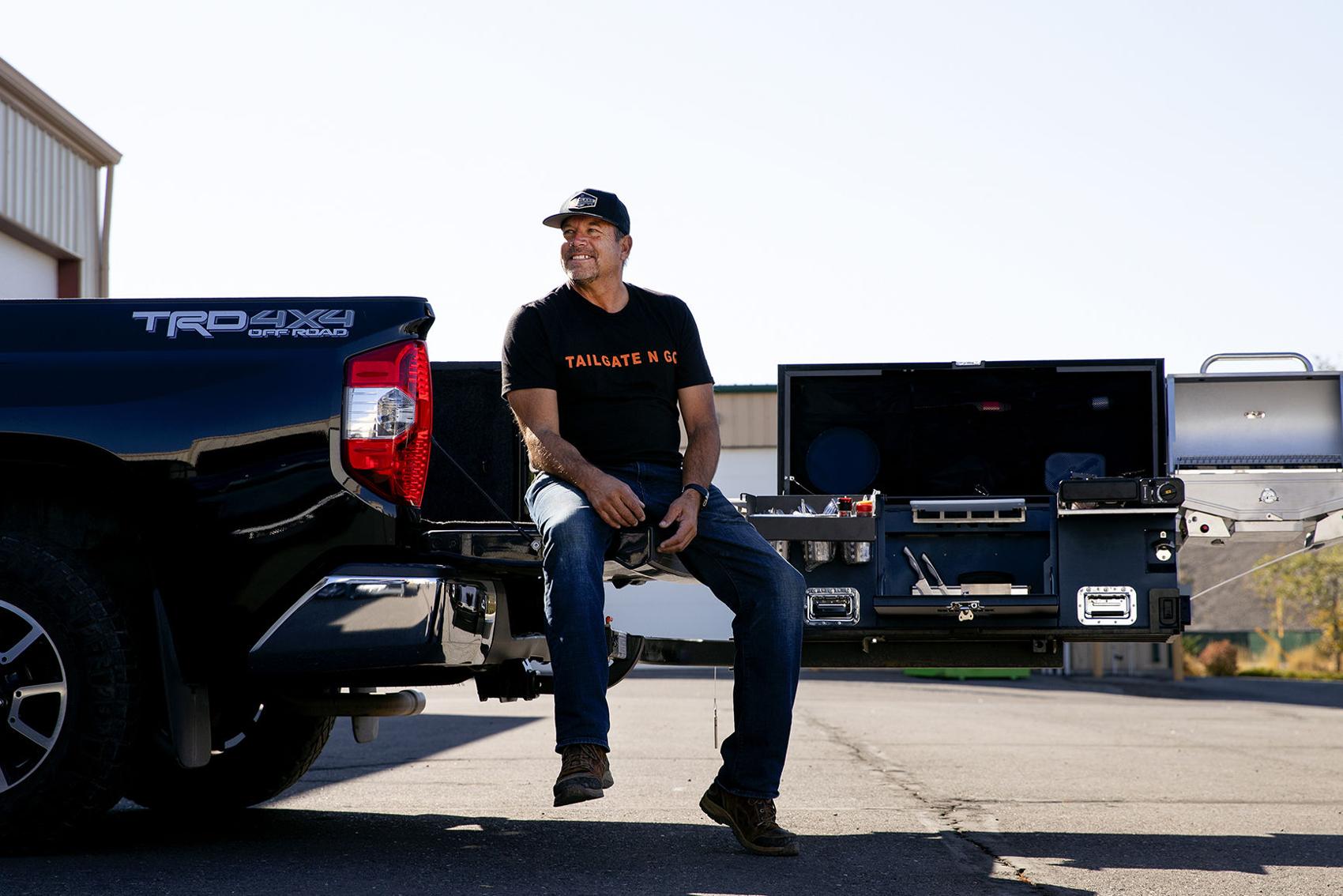 When Ron, Taylor and Kobe Johnson took their Tailgate N Go portable kitchens on the road to different trade shows, they would regularly hear that they should try out for the reality show "Shark Tank."
Upon hearing the familiar sentiment at a recent show in Flagstaff, Arizona, they had to laugh.
At the time, the Grand Junction family was just about to tape an episode of the popular ABC TV show and pitch their product to the five millionaire and billionaire business tycoons, in hopes of securing an investment.
That filming occurred in June and the episode airs at 8 p.m. Sunday on Channel 8, KJCT.
The Johnsons tried out for the show at a casting event in Palm Springs, California, in February.
They're not allowed to divulge any of the results of their episode, so viewers will have to tune in to see what happened. The family hasn't even seen their episode and said they are curious to see how their portion is edited.
The three all have vivid memories of the experience and found life on the TV set interesting.
"It was just an awesome day. I'll never forget that day," Kobe said of the filming.
When heading through the doors to meet the sharks, Taylor and Kobe both said it felt as if they were being pulled into the room.
"I don't remember walking, honestly," Taylor said.
Kobe is the first deaf entrepreneur to ever appear on the program. Kobe uses sign language and the show provided an interpreter on set for when he spoke to the sharks. During an interview with The Daily Sentinel, Taylor and Ron translated for Kobe.
Taylor and Kobe are the official owners of Tailgate N Go and run most of the business. Ron, their father, also owns Riverbend Machinery in Grand Junction and came up with the idea for the product after a camping trip.
It was just over two years ago when Taylor was supposed to meet Kobe and Ron at a campsite and was responsible for bringing up the food. Ron said he was constantly looking for items such as a spatula and salt. Meanwhile, their picnic table was overrun with bags. Ron and Taylor said they looked around and saw tables at neighboring campsites were in a similar state.
"It was funny. We were seeing this over and over and over," Taylor said.
Ron said that when he would camp or go on fishing trips with his father, they would have a "chuck box" that contained all sorts of items they would need for the trip and something they could quickly load and go.
"I thought there had to be a better way for a dry box," Ron said.
Basing his idea on that, he started making a prototype of a box that could hold all condiments, and any non-perishable gear for food on a camping trip or tailgate outing. After several prototypes, Tailgate N Go became a business.
"A lot of people who go camping forget things and it can be stressful," Kobe said.
The portable kitchen boxes come with several cutting boards that can become tables or be used to prepare food and can latch on the side of the box.
There is a portable burner, grills and griddles that can all attach along with space for condiments, plates, silverware and whatever else someone decides to bring with them.
Regardless of the still unknown outcome of the show, Ron said he's hopeful that "Shark Tank" will be a good showcase for the product.